Greetings(1968)
The Wedding Party(1969)
Sams Song(1969)
Hi Mom!(1970)
Bloody Mama(1970)
Jennifer On My Mind(1971)
Gang Tha Couldn't Shoot Strait(1971)
Born To Win(1971)
Mean Streets(1973)
Bang The Drum Slowly (1973)
Godfather Part 2(1974)
The Last Tycoon(1976)
1900 (1976)
Taxi Driver (1976)
New York, New York(1977)
Deer Hunter (1978)
Raging Bull (1980)
True Confessions (1981)
The King Of Comedy(1983)
Once Upon A Time In America(1984)
Falling In Love(1984)
Brazil(1985)
The Mission(1986)
Angel Heart(1987)
The Untouchables(1987)
Midnight Run(1988)
Were No Angels(1989)
Jacknife(1989)
Awakenings(1990)
Stanley & Iris(1990)
Goodfellas(1990)
Cape Fear(1991)
Guilty By Suspicion(1991)
Backdraft(1991)
Night And The City(1992)
Godfather 2(197?)
Mistress(1992)
A Bronx Tale(1993)
Mad Dog And Glory(1993)
This Boys Life(1993)
Frankenstein(1994)
Casino(1995)
Heat(1995)
The Fan(1996)
Sleepers(1996)
Marvins Room(1996)
Cop Land(1997)
Wag The Dog(1997)
Jackie Brown(1997)
Ronin(1998)
New York City-Come Visit The World(1998)
Great Expectations(1998)
Analyze This(1999)
Flawless(1999)
Men Of Honor(2000)
The Adventures Of Rocky And Bullwinkle(2000)- Also Producer
Meet The Parents(2000)
15 Minutes(2001)
The Score(2001)
Showtime (Coming 2002)
City By The Sea (Coming 2002)
Scared Guys (Coming 2002)
Analyze That (Coming 2002)
Meet The Fockers (Coming 2003)
A Picture From Raging Bull..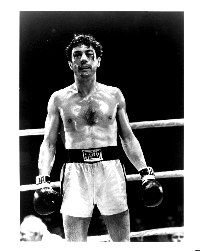 Robert DeNiro's Performance In Raging Bull Seems To Go Beyond Performance: He Sinks So Deeply Into The Role Of Jake LaMotta. That You Almost Forget He's DeNiro. It's Such A Great Movie That You Have To Love His Performance It Is Perhaps The High Point Of His Long And Great Career.
And To Actually Put On ALL Of 50 Pounds Is Amazing To Hear..
WHAT A PERFORMANCE..